Tools and strategies to help you dominate in your real estate career when it many are fleeing the industry!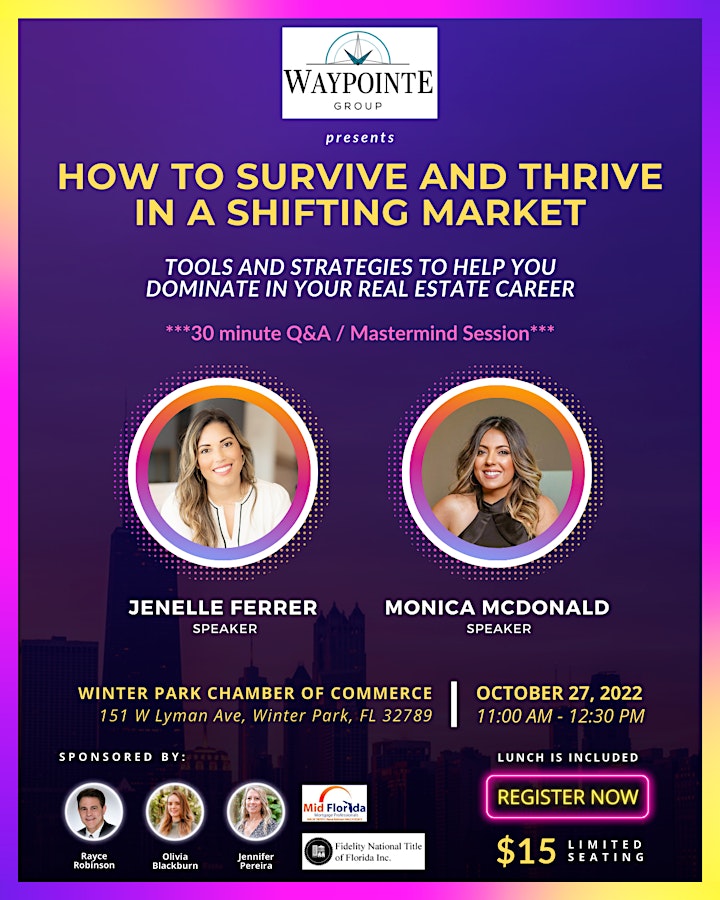 We are resuming our training series to finish the year strong! The market has shifted, inventory is still low and interest rates have increased placing several buyers outside of their original price point. Agents are leaving the industry by the droves.
So now what? How do we stay in this market thriving and dominating? With over 25,000 real estate agents in Central Florida, market shifting will mean thousands will leave the industry so you need to know how to survive in every market.
This session will discuss:
Where we are (know the market today)
Where we are going (what are experts forecasting)
What to expect (how to discuss this with clients)
What tools to use to gain listings, convert prospects into leads and CLOSE DEALS.
How to niche down and gain leads and long term clients!
THEN WORKSHOP TIME to walk away with tangible action items
We will have an open Q&A / Mastermind session to discuss best practices and grow together in this ever changing industry.
Our goal is to elevate real estate professionals, and bring the latest information to help you and your teams learn and grow always!
Join Jenelle Ferrer and Monica McDonald as they share what to do in a shifting market and help you grow in your real estate career.
LUNCH WILL BE CATERED!
Let's adapt with the shifting market and be prepared too talk to our clients as the real estate experts!
Sponsored by Fidelity National and Mid-Florida Mortgage.