As real estate professionals, we're only as good as our last paycheck. We want to change that reality by creating financial freedom.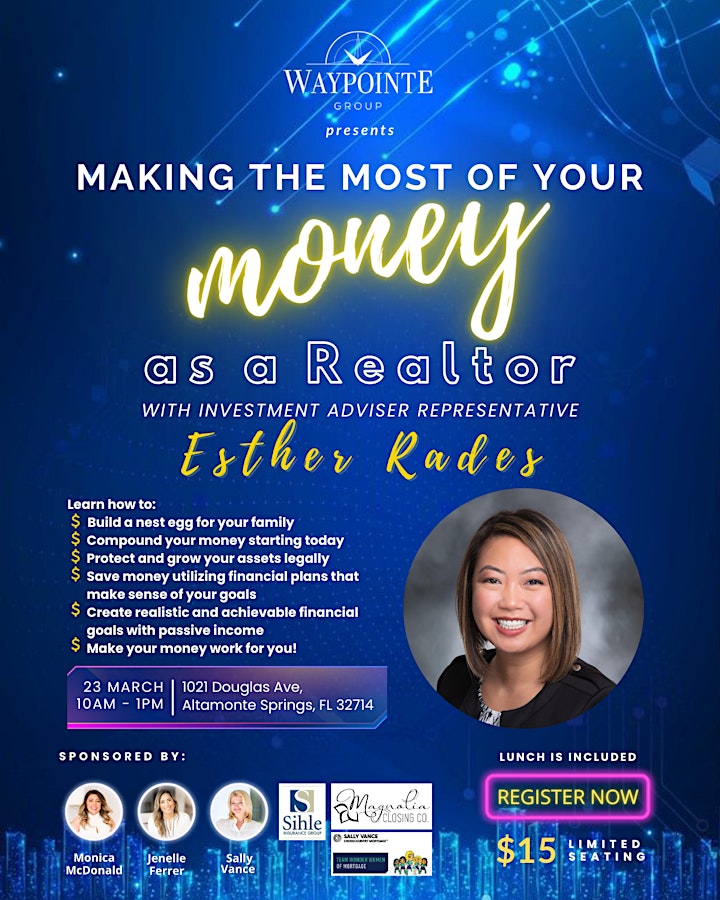 If you want to stop chasing the next paycheck and want to create a lasting legacy and financial freedom for you now and in the future, this seminar is for you! We have invited investment adviser, Esther Rades to join us in discussing how to help you build wealth beyond the real estate transaction.
You will learn how to:
💲 Build a nest egg for your family
💲 Compound your money starting today
💲 Protect and grow your assets legally
💲 Save money utilizing financial plans that make sense for your goals
💲 Create realistic and achievable financial goals with passive income
💲 Make your money work for you!
Esther has been in financial services since 2009. Prior to her work in financial services, she spent 10 years working for a management consulting firm for small to medium-sized businesses. Her background and training allow her to focus on the long-term financial success of her clients. She has worked particularly with 1099 contractors in helping them achieve the financial freedom goals they strive for.
This event is sponsored by Magnolia Title, Sally Vance with Cross Country Mortgage and Sihle Insurance Group.